Written by Catherine Ann Jones 

Freud's Oracle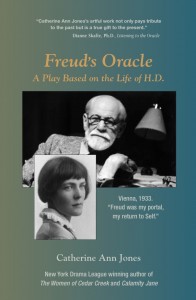 Freud's Oracle, written and performed by award-winning actor-playwright Catherine Ann Jones, is a one-person play about the American poet H.D. (Hilda Doolittle 1886-1961) and her relationship with Sigmund Freud. H.D. suffered great personal losses and a nervous breakdown due to the Great War, becoming Freud's patient in 1933 due to an increasing paranoia about the rise of Hitler and the fear and certainty that another war was coming. H.D. helped persuade Freud to leave Vienna and re-locate to London. The themes are the travesty of war and the triumph of the individual.
(2016 Productions: Ojai, CA; Santa Fe, NM; New Orleans, LA, Santa Barbara, CA)
"I think Freud's Oracle is terrific! I am going to read it over again. Bravo! – Arthur Kornhaber, M.D.
"Catherine Ann Jones's artful work not only pays tribute to  the past but is a true gift to the present. – Dianne Skafte, Ph.D., Listening to the Oracle

(2016 Productions: Ojai, CA; Santa Fe, NM; New Orleans, LA, Santa Barbara, CA)
Book Available for purchase on Amazon!
---
The Women of Cedar Creek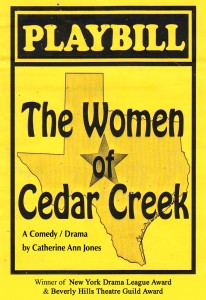 This comedy-drama family play is set in Texas in the mid-seventies. Three generations of Texas women come together to persuade their aging mother to leave Cedar Creek, her home of fifty years. Old ghosts and family secrets explode over a twenty-four hour period, exploring the love-hate relationships of family.
"I wrote this play about how families often say and do terrible things to each another yet at the end of the day, gather and have dinner as though this was all completely normal."                 – Catherine Ann Jones
---
Calamity Jane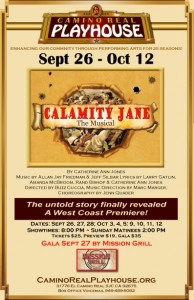 Story: Calamity Jane, a legend in her own time, lived a century too early to be understood as the emancipated strong-willed woman she was. Forced to give up her daughter for adoption when Bill Hickok leaves her for another woman, the story presents the confrontation between mother and daughter as well as the myth and reality of the Old West.
 "If you've ever been a parent
   If you've ever had a parent,
                                                  If you've ever loved and lost,
                                                  You'll love Calamity Jane!"
---