Screenplays written and produced by Catherine Ann Jones.
The Christmas Wife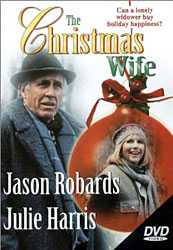 Widower John Tanner (Jason Robards) is unhappy that he has to miss a longstanding Christmas gathering with his son Jim (Jim Eckhouse) and his family. So to avoid being alone, he decides to hire a platonic companion for the holidays, enlisting the services of forlorn escort Iris (Julie Harris). He makes it clear from the beginning, however, that there will be no hanky-panky between the two. But sparks begin to fly when charming John begins to warm Iris' bitter and bleary heart.
Unlikely Angel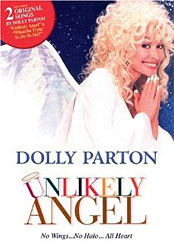 Country superstar Dolly Parton stars in this heartwarming tale of a brassy and sassy lounge singer who is killed in a car crash, but denied entrance into heaven because of the selfish way she lived her life. Her penance: to reunite a family by finding a mother for two children and their recently widowed father before the Christmas deadline.